Our group
Active worldwide
Since 1992, Euragglo has been associated to the American group K.R. KOMAREK and through a take-over in 2018, the German group KÖPPERN is the sole shareholder of both companies.
The KÖPPERN Group is a family company, managed by Christopher SCHÄFER, 4th generation of the KÖPPERN family involved in designing and manufacturing briquetting and compaction-granulation systems, as well as comminution units based on the roller-press technology.
This network of know-how and expertise is now active worldwide thanks to this alliance and our group can propose technical solutions in many different industries to a large spectrum of companies.
Born with a dedication to quality and reliability, the KÖPPERN Group with EURAGGLO and K.R. KOMAREK are a strong team, 100% turned to the satisfaction of its present and future customers.
Our group is active worldwide and has installed more than 1 000 units in more than 40 countries, since its creation.
Our story
Key dates
1898 The KÖPPERN family starts in briquetting in Hattingen, Germany
1920 The KOMAREK family starts in briquetting in Chicago, USA
1992 Creation of EURAGGLO S.A.S.
1997 EURAGGLO starts as distributor for K.R. KOMAREK
2009-2016 Development of the pilot plant and workshop in Quievrechain
2018 KÖPPERN becomes sole shareholder of K.R. KOMAREK and EURAGGLO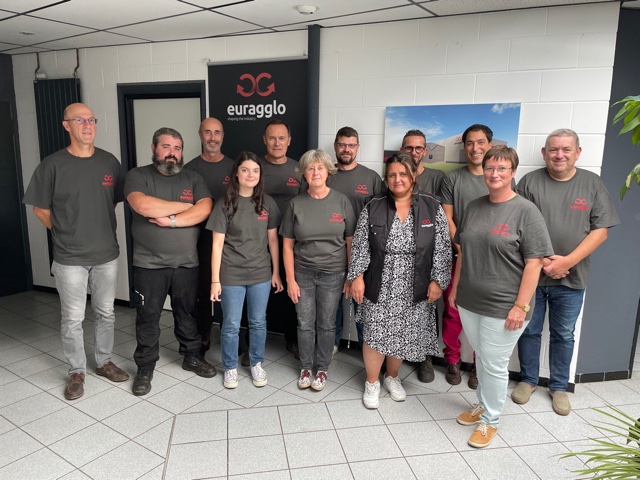 Euragglo in a few figures
Number of client countries
Number of tested materials
Number of pressure agglomeration processes offered
Lowest equipment capacity
Highest equipment capacity
Euragglo's faces
Christophe
Christophe
Pringuet
Managing Director
Euragglo's faces
Lead, Direct, Plan
Managing Director
Pringuet
Claire
Claire
Sissoëff-piet
Market Manager
Euragglo's faces
Interact, Meet, Advise, Sell
Market Manager
Sissoëff-piet
Roselyne
Roselyne
Özeren
Sales Assistant
Euragglo's faces
Welcome, Direct, Organize
Sylvain
Sylvain
Lefevre
Administration & Finance Manager
Euragglo's faces
Record, Analyze, Organize, Control
Administration & Finance Manager
Lefevre
Sylvain
Sylvain
Chevron
Director Process & Services
Euragglo's faces
Test, Audit, Direct, Train, Advise
Director Process & Services
Chevron
Patrick
Patrick
Lecherf
Export Sales Manager
Euragglo's faces
Interact, Meet, Advise, Sell
Export Sales Manager
Lecherf
Bastien
Bastien
Martinez
Technical Manager
Euragglo's faces
Imagine, Design, Plan, Build
Technical Manager
Martinez
Davy
Davy
Fronval
Technical Assistance
Euragglo's faces
Troubleshoot, Advise, Maintain
Technical Assistance
Fronval
Bruno
Bruno
Colin
Project Manager
Euragglo's faces
Imagine, Design, Project, Start